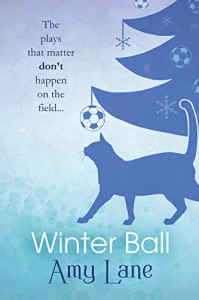 A really heartwarming romance. Skip and Richie have teammates on a recreational football (soccer) team for years when Skip realises he's very attracted to Richie. One thing leads to another, and Richie also realises he's gay. Richie has a dysfunctional family, Skip has no family. Together they try and a build a loving family with each other.
The dialogue is good, but I got the impression that Richie and Skip were teenagers, not in their mid-twenties, but that's a minor point..
Here's the blurb:
Through a miserable adolescence and a lonely adulthood, Skipper Keith has dreamed of nothing but family. The closest he gets is the rec league soccer team he coaches after work—and his star player and best friend, Richie Scoggins.
One brisk night in late October, a postpractice convo in Richie's car turns into a sexual encounter neither of them expected—nor want to forget. Soon Skip and Richie are living for the weekends and their winter league soccer games—and the games they enjoy off the field. Through broken noses, holiday decorating, and the killer flu, they learn more about each other than they ever dreamed possible. Every new discovery takes them further beyond the boundaries of the soccer field and into the infinite possibilities of the best relationship of Skipper's life.
Skipper can't dream of a better family than Richie—but Richie's got real family entanglements he can't shake off. Skipper needs to convince Richie to stay with him beyond winter ball so the relationship they started on the field might become their happy future in real life!