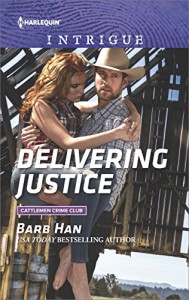 This is the latest instalment in the O'Brien brothers saga. This time the brother is Tyler. The plot is tense, but about half of the book is about the sexual tension between Jessica (Red) and Tyler, which I found was just a tad too much. But it didn't really detract from the story; it was still an exciting plot. Here's the blurb:
A sexy cowboy comes to the rescue of a beautiful woman who has no idea who she is…

When Tyler O'Brien finds a woman lying helpless after an ATV accident on his ranch, nothing adds up. Especially his real, sudden attraction to "Red." But aiding the amnesiac only compounds the rich Texas cowboy's doubts. How can he unlock the truth?

Learning that Red is desperately searching for her twin sister who may have come to harm, Tyler—who doesn't "do feelings"—promises help and protection. Soon he's also burning with desire. As the two race against time to find Red's sister, they're drawn deeper into a complicated mystery. Tyler will have to draw on every ounce of strength to keep this stranger safe…and resist taking her to bed.